Sexy mode trends herfst 2016
Deze editie: Kleuren voor herfst 2016
Pantone voorspelt ieder jaar de trends in kleur die we deze herfst en winter veel zullen zien. Blauwtinten spelen een belangrijke rol deze herfst.
Blauw representeert de lucht en staat voor kalmte en vertrouwen.
Daarnaast is er de neutrale kleur grijs en een aantal aardetinten en een paar felle kleuren zoals fel rood, mosterdgeel en pittig paars die eruit springen.
De kleuren zijn niet alleen een voorspelling voor de mode, deze kleuren zullen ook bij de inrichting en meubels te zien zijn.
Bij elkaar is het eigenlijk best een mooi palet van kleur waar we iets mee kunnen deze winter.
Je zou in ieder geval kunnen zeggen dat de kleuren van dit jaar iets vrolijker aandoen dan die van vorig jaar.
Je kunt ook vast een kijkje nemen bij de belangrijkste modetrends dit najaar.

Riverside
Riverside is een heldere kleur blauw. De kleur van de oever van een rivier. Een mooie, niet te felle kleur blauw. Een kleur blauw die veel op spijkerblauw lijkt. Deze kleur blauw combineert mooi met de lichtblauwe trendkleur Airy Blue (zie hieronder) maar ook met het Aurora Red en Bodacious.

                                                             © modefoto: Dimitry Abaza/shutterstock.com
Airy Blue
Luchtblauw. Een mooie zachte kleur blauw en één van de kleuren van het jaar 2016. Een vrij lichte kleur voor de herfst en winter. Mooi te combineren met grijs, taupe. maar ook met rood en potter's clay.

                                                               © Modefoto: Fashionstock/Shutterstock.com
Sharkskin
De kleur grijs van huid van de haai. Een kleur grijs die met iedere andere kleur uit dit rijtje te combineren is. Het grijs is zowel mooi met de felle kleuren als mosterdgeel en aurora red als de zachte kleuren taupe en airy blue.

                                                                © Modefoto: Fashionstock/Shutterstock.com
Dusty Cedar
De kleur van cederhout dat naar het roze neigt. Een winterse kleur roze die een beetje aan oud-roze doet denken. Heel mooi met donkerrood, met grijs en taupe te combineren.

                                                                 © Modefoto: Ovidiu Hrubaru/Shutterstock.com 
Aurora Red
Het rood van het ochtendgloren. Een felle, levendige kleur rood die varieert van rozerood tot bloedrood. Een kleur die durf en vertrouwen uitstraalt. Mooi met het sharkskin grijs, maar ook met blauw en taupe te combineren.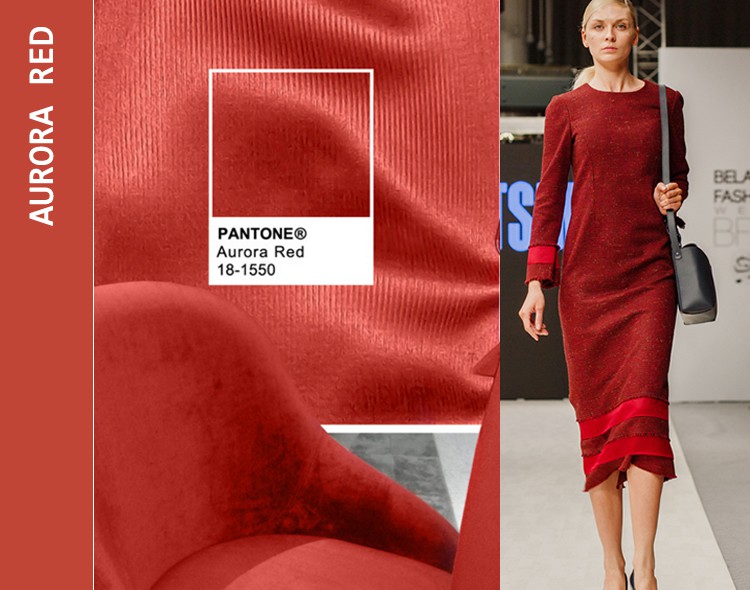 © Modefoto: Elena Gordelchik/Shutterstock.com
Warm Taupe
Warm taupe is een mooie lichte herfst- en winterkleur. Het is eigenlijk grijs-bruin met een tikkeltje roze erin. Makkelijk te combineren met zowel lichte als felle kleuren. Vooral de combi met winterwit is erg mooi.

                                                          © Modefoto: Ovidiu Hrubaru/Shutterstock.com
Lush Meadow
Een mooie heldere kleur groen. De kleur van een sappige weide. Heel mooi met taupe of grijs te combineren, maar ook met zwart.

                                                     © Modefoto: Dima Babushkin/Shutterstock.com
Spicy mustard
Spicy mustard is een kleur geel die naar het bruingroen neigt. Het kan een vrij felle kleur zijn maar als er meer naar het bruin neigt wordt het minder opvallend.

                                                           © Modefoto: Fashionstock/Shutterstock.com
Potter's Clay
De kleur van natte rode klei. Een beetje steenrood naar het cognac kleurige toe. Waarschijnlijk zullen we ook veel cognackleurig leer voor tassen en schoenen zien. Potter's clay combineert ook met de meeste andere trendkleuren en in het bijzonder met met de blauwtinten, met het geel.

                                                          © Modefoto: Fashionstock/Shutterstock.com
Bodacious
Bodacious betekent zoiets als gedurfd, brutaal. Een vrij felle kleur paars die vrij onverwacht is voor het najaar. Kan zowel met paars als donkerrood als roze gecombineerd worden. Een kleur die ook mooi met blauw, grijs of taupe is.

                                                            © Modefoto: Fashionstock/Shutterstock.com
Bron: Pantone